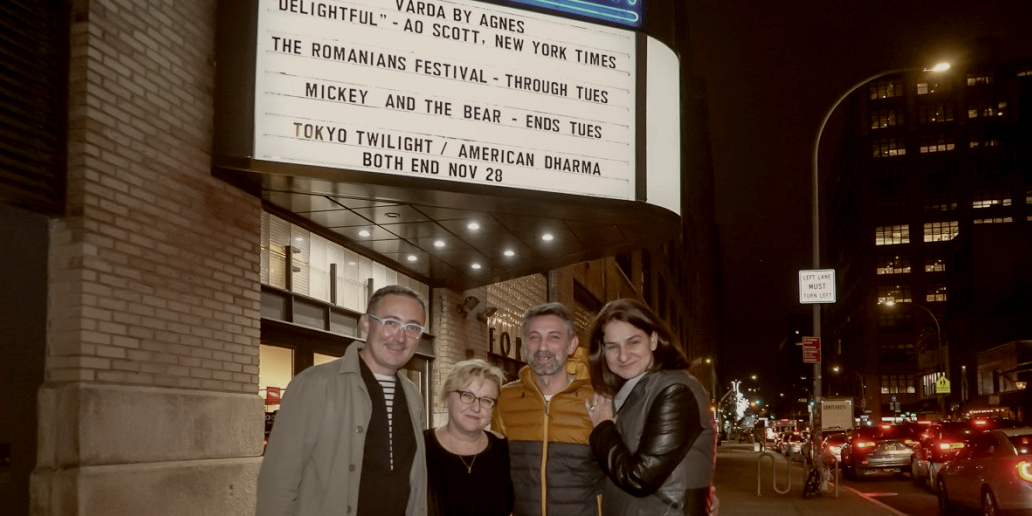 Bookhub : Corina Șuteu în dialog cu Nona Rapotan
Cred că spectatorii dintotdeauna din lume apreciază sau nu un gest estetic dincolo de comparații istorice, dacă opera are valoare.
The Romanians: 30 Years of Cinema Revolution, cel mai amplu program dedicat vreodată cinematografiei românești în Statele Unite ale Americii, care a celebrat în 30 de filme cele trei decenii de cinema de după căderea regimului comunist, a avut loc la Film Forum din New York între 15 și 26 noiembrie 2019.
Regizorii Andrei Ujică, Tudor Giurgiu și Constantin Popescu și actorul Andi Vasluianu, ambasador al Making Waves s-au alăturat proiecțiilor de la Film Forum New York.
Reputată organizație de film din New York, Film Forum a găzduit de-a lungul timpului premierele americane ale mai multor filme din program – Moartea domnului Lăzărescu, A fost sau n-a fost?, Marți, după Crăciun sau Poziția copilului – contribuind la întâlnirea publicului american cu ceea ce avea să se numească ulterior Noul Cinema Românesc și la recunoașterea acestor filme în rândul criticii.
O selecție a retrospectivei va pleca în turneu prin Statele Unite până în luna mai 2020. Startul va fi dat chiar în această iarnă, în California, la UC Berkeley Art Museum and Pacific Film Archive (BAMPFA), cu un program care va include 13 titluri ce vor rula între 6 decembrie 2019 și 27 februarie 2020, urmată de Romanian Film Festival in Seattle (ianuarie – aprilie 2020) și Lightbox Film Center din Philadelphia (martie 2020). Programul retrospectivei în Cambridge, MA, Washington, DC, Phoenix, Chicago, Los Angeles și alte orașe americane este în prezent în curs de precizare și va fi anunțat în luna decembrie.
Ca în fiecare an, Making Waves va prezenta la cea de-a 14-a ediție și o selecție a celor mai bune filme românești recente, între 5 și 10 decembrie, la Jacob Burns Film Center (Pleasantville, New York), partenerul de durată al evenimentului. Programul va fi anunțat în 11 noiembrie.
Making Waves: New Romanian Cinema este un festival de film românesc cu tradiție în New York. Produs și curatoriat de Corina Șuteu, Mihai Chirilov și Oana Radu – nucleul echipei care a inițiat și organizat evenimentul începând din 2006–, festivalul este prezentat de Asociația Film ETC, în parteneriat cu organizații importante din New York, precum Film Society of Lincoln Center, BAM, Jacob Burns Film Center și, anul acesta, Film Forum.